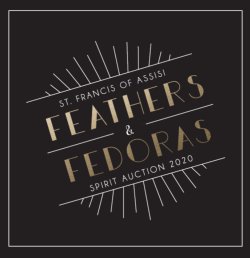 What

Feathers & Fedoras Auction

When

4/26/2020, 9:00 AM

Where

Online
Meet us online as we celebrate our annual auction: Feathers & Fedoras!
Wednesday, April 22nd beginning at 9:00 am --> Sunday, April 26th, closing at 8:00 pm
This year's funded item is scholarships for our school families greatly impacted by COVID-19 and the economic shut down. Let's raise each other up and keep our community intact.
Even though our school building is closed, our school is running full speed ahead. All salaries are being paid and very few of our expenses have gone down. It is now more important than ever that our auction, our biggest fundraiser of the year, is a huge success.
All of the pieces are in place. Now it is up to you. Thank you for going online, registering, and then bidding often and giving generously in support of our school. We can do this together!